I've been inspired to do a general update of the first post of this thread for ease of navigation, so here goes.
Premise:
Take control of the odd duo of Sonia the Hedgehog and Silver the Hedgehog in this total conversion mod of Sonic 1 for the Sega Genesis. Join forces and travel across exotic and perilous lands to defeat the evil Eggman Nega!
Current and Planned Features:
New Heroes
: Sonia and Silver make their debut in a 2D side scrolling title with their signature PK and Super Twirl abilities.
New Enemies
: Eggman Nega has stepped in the place of Dr. Robotnik. Not only has he repainted and reprogrammed his top badniks, but he's also captured and reprogrammed Robotnik's top three generals: Team Metallix, who are led on the field by the dangerous Metal Sonic!
New Levels
: In addition to use usual sunset grasslands, Sonia and Silver will navigate crystal palaces, an interstate in the sky, a super hot temple, and even a Ring themed amusement park!
New Special Stages
: The Chaos Emeralds are locked away in the special zone, with a different and progressively harder challenge to get each one. Can you get all 7?
Completely New Soundtrack
: Currently the first and only mod to use complete rearrangements for each act as opposed to random songs. Also currently has the largest amount of original tracks in a mod. (as far as I know anyway)
Current Release Screenshots:
Title Screen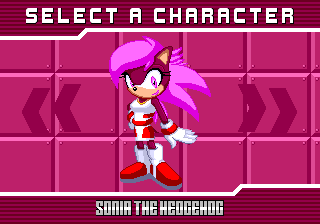 Character Select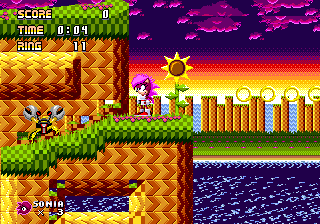 Spectra Valley Zone
Arid Temple Zone:
Ring Land Zone: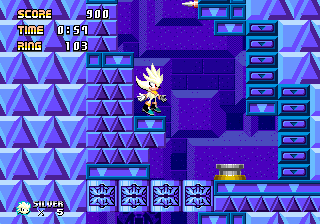 Placid Sapphire Zone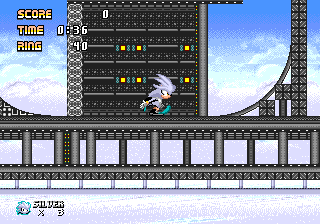 Chaotic Street Zone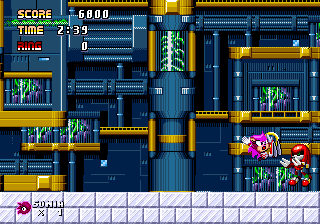 White Blaster Zone
Destron City Zone: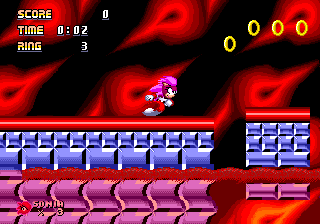 Emerald Chase Zone:
Begin the Download
From here on is the rest of the thread which covers the development of the game and lets you know of more upcoming features, including extra characters.
Feel free to leave comments of all sorts!
--------------------------------------------------------------------
OLD FIRST POST IS BELOW FOR THE ARCHIVES
--------------------------------------------------------------------
Yep..I've blathered enough about it elsewhere so I suppose it's time for the mass unveiling of my Project:

The S Factor: Sonia and Silver, or "The S Factor" for short, is a hack of Sonic 1. It stars Sonia the Hedgehog (and I do mean SU Sonia) and Silver the Hedgehog. Sonic will not be seen or heard in any way, shape or form whatsoever. There are currently no plans for other playable characters. Sonia has an alternate outfit as the first one was just plain palette hell. Anywho, enough blather, on with the screens.
Title Screen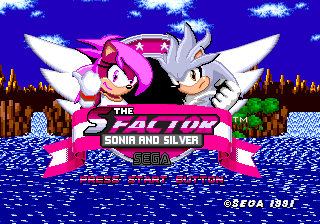 Yes, that
is
an ingame shot. Thanks to StephenUK for the logo tile fix. Animations aren't implemented...yet.
Knothole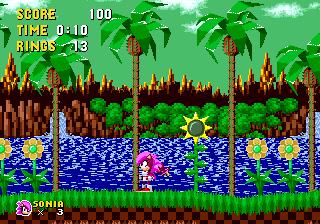 Not much to say right now, other than there are plans for new art to match the name.
The Inferno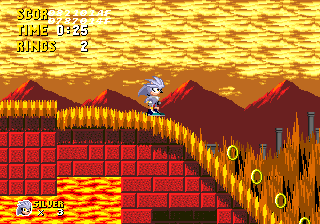 Yay Hell on Earth! (that's the general idea anwyay)
RingLand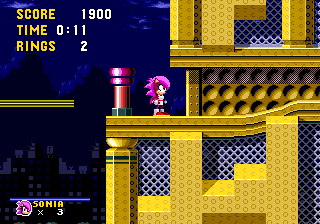 In time, you shall see why it's called "RingLand"
Sapphire Storm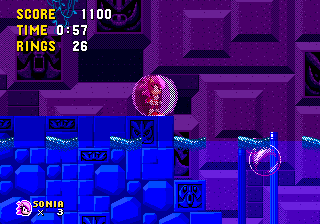 I'm blue da ba de da ba dye *shot*
White Blaster
(Currently not implemented)
Screens coming soon!
Sky Highway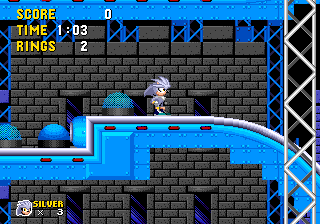 This
was
White Blaster, but then I dedcided to swap the two.
Destron City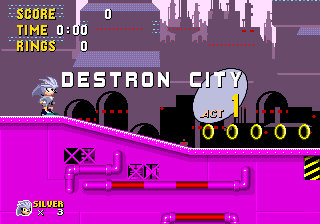 Plus points if you figure out the deal with the name.
Did you get the level theme?
Now for some sign post love: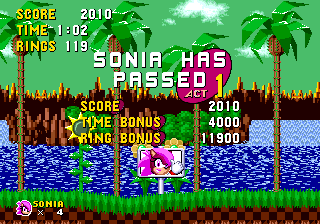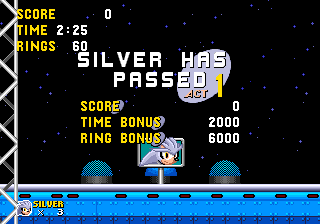 Other things of note:
*Sonia's Super Twirl has been implemented. Imagine a one button spindash with tornado sprites. Also kills baddies.
*Sonia and Silver are both actually in, though Silver has few actual sprites.
*Sonia's sprites are finished (Save for the ending pose)
*As a power type, Sonia is able to break through walls. A bit slow, but still.
*Speaking of slow, Silver is quite slow. Not so slow that he can't clear loops, but he doesn't make it into circle sprites without spring assistance.
*Eggman is not the villain.
*All music has been replaced. In essence, all of it is ported, but many are not in the way you think.
Title Screen
Sonia's Ending
Silver's Ending
The last two need new voices, but I'm trying to beat Cakewalk's expiration deadline so I just need to get some importable MIDIs for now. (Damn you Anvil Studio! Damn you and your incompatibility with Sonic QX!)
Things left to do:
*Finish Silver's sprites
*Finish music composition
*Replace level art
*Revamp title screen
*Program Silver's moves
*Insert White Blaster
*Finalize music voices
*Program Sonia's axe kick
*Add 7th Chaos Emerald
*Change the way Special Stages are accessed (one stage per zone, color correspondent)
*Random art details
*Bug Fixes (Sorry mates, this does
not
include the "spike bug". In fact, I'm seriously considering giving the lava that trait)
I currently have no plans for layout changes as I don't feel I could design a Sonic level to save my life (Not a good one anyway).
A demo release is distant at this point. While I do want to get something up in time for the hacking contest, I'm not gonna rush either. I've got a certain amount of things I want done beforehand so..yeah.
With that said, fire away!
Oh..and character change is out of the question.