Old content of this post here
Hi, I've posted about this game here before, I've just retaken the quiz and thought this would be a good time to show this again.
Anyways, Sonic XG is gonna be a fangame that directly continues the story from the end of S3K, in pure retro style. It will feature 10 zones, 8 with 2 acts, 2 with 1 act
??? ??? Zone - Secret/surprise intro zone
Final Fall Zone - Set on the floating island, the ruins of the Death hurtling towards it from space. In Act 2 the Death Egg explodes and you must run accross the island as it crumbles and falls apart. (screens are an engine test zone using act1's grpahics)
These 2 shots are ingame:
Peak Panic Zone - You fall from the crumbling floating island to the icey peaks below. The layout of the first 1/2 of act 1 is below, click to see 25% full size.
Wood Works Zone - A huge water powered factory in a forest/wood, powered by water wheels and the like.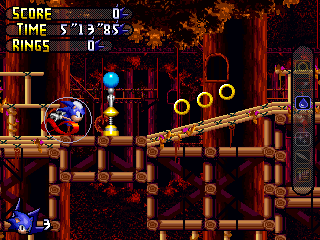 Palm Paradiso Zone - Green Hill tribute of sorts, typical sonic paradise zone. (screens of this zone are mockups using ingame gfx)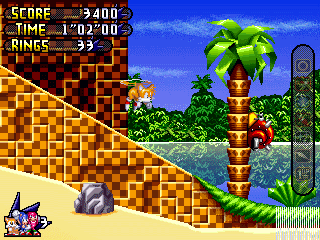 Desert Dash Zone - Inspired by dust hill/desert zone's graphics, it will be a desert level featuring pyramid sections that work like the interior sections of Launch Base Act 1/Flying Battery. (Screen is mockup)
Cosmic Chasm Zone - Teleported from a pyramid, your hugh above the planet on a huge comet/asteroid or something, with beams that will toggle your gravity. (screens are mocks)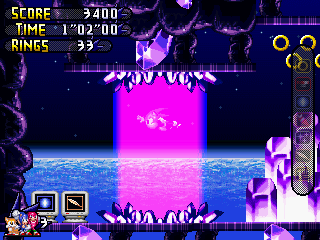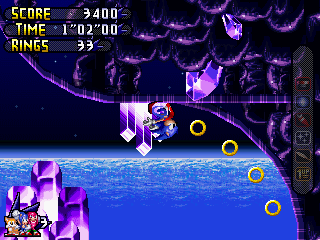 Golden Gate Zone - Back down to the planet, your above a huge city, and work your way down into the main part of it in Act 2, complete with casinoey sections. (screens are mocks).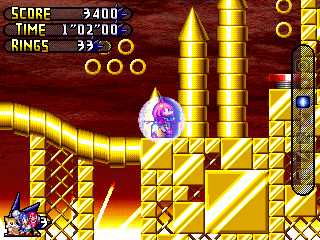 Chaos Central Zone - The final zone persay, SXG's answer to death egg (and partly inspired by the discovery of the genocide city/machine link/discovery thing), these screens are from a very early test of the layout, excuse the lack of rings/springs/enemies etc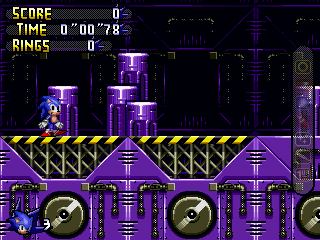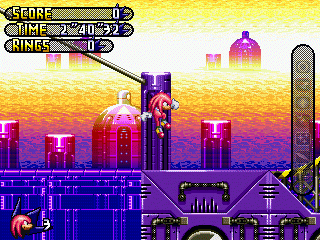 The game will be completed and released this year.
EDIT: Oh yeah, theres a secret zone after Chaos Central obviously. =P
<NEW STUFF> 18/06/07
Hi Guys
click it!
Footage of sonic in final fall act 1 and knuckles in 2. Music is the boss theme "rooting for the bad guy".
19/07/07
http://s83.photobucket.com/albums/j313/Sir...eakbossbeta.flv
Here is a video featuring OLD footage of the peak panic boss, it is quite buggy (note ring loss and the bottom right of the background) but it does have the classic style boss music, go nuts! Please don't judge the final game based on this though, it's around 1 year old footage.
NEW STUFF 15/08/07
Just some tidbits from SFGHQ;
http://sonicfangames...read.php?t=3243
----------------------------------------
A little buggy, too tired to explain, tis 2.30am, was at work today.
Me and Joe worked our arses off, enjoy it.
HAHAHAHAHAH
http://www.williamg....com/SXGWEBSITE/
http://www.williamg....TE/SXGDEMO1.zip
(edit: doesn't work anymore, you whores! =P)
PS. oh yeah one bugs is the powerup music is screwy, will fix for demo 2, prolly coming 2012
----------------------------------------
hai guys!
My webspace went down overnight just got it back cos SXG demo was whored out woo!
Anyone mind hosting it for me? My piddly bandwidth (cos my space is an extra with my ISP) can't cope! wtf
----------------------------------------
Ta for playing.
This post has been edited by Sir Euan: 15 August 2007 - 08:38 AM