Here I am again, with my second hack project, joining the madness of 'X character IN Sonic 1' too :P
And hence Shadow is my fave character and there wasn't any Shadow in S1 hacks (at least that I'm aware of) I decided to make one for him.
This by no means is intended to be a copy of Sonic Megamix. As I said, I just wanted it to be plain Shadow in Sonic 1.
Also I want to give thanks to the wonderful people that helped me on this, making it kinda a collaborative project between me, Jimmy Hedgehog, Selbi, MarkeyJester and E-122-Psi, thanks to these people for their help and coding and from the marvelous people who made the Shadow sprite sheet found on The Mystical Forest Zone page
http://themysticalforestzone.com/sprites_2..._two_Gardow.png
(and me, of course, because I did some of the sprites that were missing :P)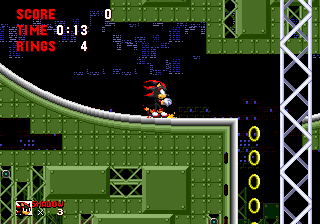 Download Rev.1.1:
http://www.mediafire.com/?qnmi448rjs112o8
Earlier revisions:
http://www.mediafire.com/?76w8l6e38558tvy
Movelist:
Down + Jump: Spindash
A: Kick
D Pad + Jump: Homming attack/Jumpdash
Known bugs:
*Miscolorations from pallette restrictions almost everywhere
To Do List:
*Implement walljump in the future
*Implement an aerial attack while pressing A in the air (a flying kick maybe?)
This post has been edited by FeliciaVal: 17 February 2011 - 08:40 PM