THEN: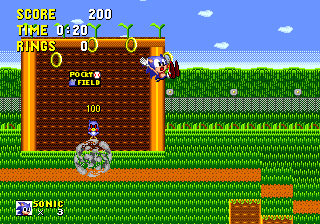 NOW: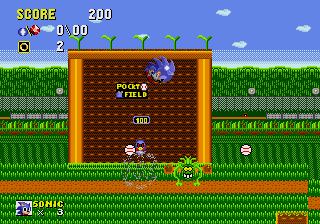 July 23, 2011 Edit:
Click here for Sonic 2 Flicky Turncoat Edition.
Download
(Nov 8, 2010 EDIT: Laptop's not working. Link updated with the unfinished latest build.)
After a little scare I have decided to release what I have. I know I am out of my league for best overall hack, but hopefully I can win the custom art trophy at least. So let us go!
Flicky Turncoat DX is based on my mini hack, Flicky Turncoat. I have decided to actually make a full game out of it, however you still can only play the first zone so far. If you never played it, basically all the little animals you release from the badniks have turned against you, and now HURT YOU. Stealth is key if you don't want to get hurt. Only attack enemies as a last resort, if you are lucky you can nick them or bounce away before the little animal gets you. Even then doesn't that seem a little...unfair? That is what the shield is for. Grab a shield, and the little animals can't hurt you, and it plays like a regular Sonic game. Beware though! Regular rules apply. Projectiles and running into badniks can make you loose your shield. What is worse, there is only one shield monitor per act, so if you are collecting rings for the emerald monitors, you want that shield. Oh yeah! Emerald monitors. One per act. Breaking it while having 50 rings gives you an emerald. There is also one life monitor per act, hidden away. Can you find them all?
As you can see, I have decided to make the art in an isometric style. I wanted to give the feeling of actually running along on a field, so there are many wide open areas. Speaking of fields, I have decided to try more of a hand at originality and do a theme nobody would even think of doing:<I> Baseball Zone. </I> Yes! Now you can experience the wonder that is dodging baseballs and jumping over spike tipped bats! Let us meet the opposing badnik team!
Concession Charlie: All this scruffy turtle wants to do is feed Sonic. Unfortunately, his selection has gone quite stale and instead hurts hedgehogs. Shoots Crackerjacks.
Pitcher Plant: This zany mess of vines and machine can blend in with the scenery, so be careful! Only his blinking yellow eyes give him away. Throws Baseballs.
Bomblur: A badnik from Triple Trouble! Here? Yes! It loves to be near springs as much as it loves sneak attacks. Moves horizontally and vertically.
???: Reach the end of the zone to meet the villain of the hack. That is...IF you can make it to the end.
---
Oh one more thing I forgot to mention! Spikes are now
megaman spikes
. Basically, they are the reverse spike bug. Yeah. Forgot to warn you.
Now with video. (Warning! Spoils boss!)
This post has been edited by GT Koopa: 23 July 2011 - 06:02 PM