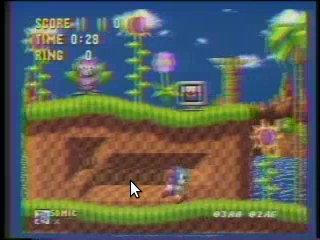 http://www.youtube.com/watch?v=L9H3edAcnZ4
http://www.youtube.com/watch?v=2l4IPW6fkJw
These two short (sadly) video clips come from CES 1991 and were taken on March 7th, 1991. Sonic 1 final was built on May 1st, so this build is at least almost two months early (it could be older, due to delays of postage etc, think Nick Arcade).
Apart from the obvious differences (which are really really nice to see), there are different DAC samples.
I also examined videos from CES 1993 and CES 1994 but found nothing interesting.
Big thanks to evilhamwizard who came up with the idea in the first place.
PS. I have some other stuff regarding Sonic 1, and there are some things in progress, so hopefully I can get a working prototype some shiny day. Before that day comes, enjoy a small helping of video goodness.