So I was randomly messing about with Micro Machines 2 a few days ago and wondered if I could figure out how to change the playable tracks on Time Trial mode. Having no clue where to start, I IM'd Tweaker who noted if I had an AR patch he'd be able to find the ROM point. After arming myself with the relevant tools, I found by pure luck the right address (noting it was only changing when I switched between levels on the selection screen), fired it his way and he sent back a bit later the ROM address. I investigated a bit further, mapped out things and whipped up a utility that I completed on Sunday - I've been deliberately saving it for today, as I've posted hacking utilities at Xmas before. =P I did intend to post it when I got back from the Xmas Eve celebrations last night but, uh, I kinda got a bit drunk and wasn't in a state to post anything. ;P
Enough babble, to the details!
Overlord's Micro Machines 2 Hacking notes said:
FFE09A:xx

xx loads up the relevant track, a partial list follows from the time trial mode

1: 09 Roller Coaster
2: 05 Tiny Treehouse
3: 22 Ferry Fiasco
4: 24 Basement Bumps
5: 04 Whine On!
6: 31 Chainsaw Chase!
7: 1e Garage Games
8: 0f Water Chase
9: 2a Turbo Turns
10: 13 Pool Slalom
11: 27 Bathtub Burnoff
12: 1b Dervish Danger
13: 0e Frosty Reception
14: 02 Pinball Panic
15: 2e Bricks N Trees
16: 34 Banked Oval
17: 0c Ups N Downs
18: 12 Ball Chase
19: 17 Musical Hits
20: 03 Step On It
21: 1d Crossing Chaos
22: 2f Vice Squad
23: 2c Steam Struggle
24: 28 Rim Runners
25: 01 Treehouse Tiles
26: 0d Garden Jumps
27: 30 Driller Killer

Thanks to Tweaker's help, the above list can be seen if you go to 0x3E6AE in the ROM.

Here's my assembled list of all the tracks:

ID: Name Vehicle Rank Level Type Notes

00: Raining Champ 4x4 Pro Treehouse Rain effect
01: Treehouse Tiles 4x4 Pro Treehouse
02: Pinball Panic Formula 1 Pro Pinball
03: Step On It Convertible Pro DIY
04: Whine On! Dumper Truck Midi Mayhem Dinner Table
05: Tiny Treehouse 4x4 Short Spin Treehouse
06: Plate Hop Supercar Midi Mayhem Kitchen Units
07: Windy Willows 4x4 Pro Treehouse Wind blows you off course
08: Cob Challenge Dumper Truck Short Spin Dinner Table
09: Roller Coaster Convertible Pro DIY
0A: Jelly Jitters Dumper Truck Midi Mayhem Dinner Table
0B: ATV Action ATV Midi Mayhem Garden
0C: Ups N Downs Convertible Pro DIY
0D: Garden Jumps ATV Midi Mayhem Garden
0E: Frosty Reception ATV Pro Garden
0F: Water Chase Hovercraft Midi Mayhem Garden (Water)
10: Training Camp ATV Short Spin Garden First level from Challenge - simple loop
11: Pro Hovercraft Hovercraft Pro Garden Garbled tiles - unplayable. Not originally a circuit?
12: Ball Chase Sportscar Pro Pool Table Table is green
13: Pool Slalom Sportscar Mini Micro Pool Table Table is green
14: Cue Capers Sportscar Midi Mayhem Pool Table Table is blue
15: Ball Bonanza Sportscar Pro Pool Table Table is pink
16: Piano Panic Monster Truck Midi Mayhem Music Room
17: Musical Hits Monster Truck Pro Music Room Glockenspiel plays Twinkle Twinkle Little Star
18: In A Spin Monster Truck Pro Music Room Record plays Beethoven's "Pour Elise" as you drive on it
19: Sand Castles Beach Buggy Short Spin Beach
1A: Bury My Body Beach Buggy Midi Mayhem Beach
1B: Dervish Danger Beach Buggy Pro Beach
1C: Picnic Problems Beach Buggy Pro Beach
1D: Crossing Chaos Bug Pro Toy Cars
1E: Garage Games Bug Mini Micro Toy Cars
1F: Turbo Blast Bug Turbo Pro Toy Cars
20: ***UNUSED*** Convertible Short Spin Car Crushing On being selected, crashes the ROM
21: Toaster Trouble Supercar Pro Kitchen Units
22: Ferry Fiasco Supercar Pro Kitchen Units
23: Lights Out! Off Roader Pro Basement
24: Basement Bumps Off Roader Midi Mayhem Basement
25: Ceiling Circuits Off Roader Midi Mayhem Basement
26: Attic Antics Off Roader Turbo Basement
27: Bathtub Burnoff Dragster Turbo Bathroom
28: Rim Runners Dragster Midi Mayhem Bathroom
29: Pinball Pursuit Formula 1 Short Spin Pinball
2A: Turbo Turns Convertible Turbo Pro DIY
2B: Rapid Results Power Boat Midio Mayhem Stream Downstream version of 2C
2C: Steam Struggle Power Boat Midio Mayhem Stream Upstream version of 2B
2D: Pipe Patience Chopper Pro Basement
2E: Bricks N Trees Chopper Pro Treehouse
2F: Vice Squad Rally Car Short Spin Workshop
30: Driller Killer Rally Car Short Spin Workshop
31: Chainsaw Chase! Rally Car Midi Mayhem Workshop
32: Tag Game 1 Sportscar Tag Pool Table is green, Car is a mini-sized bug
33: Tag Game 2 Convertible Tag ? Level is corrupt. Car is helicopter without blades or rising/falling
34: Banked Oval Beach Buggy Turbo Beach
35: ***UNUSED*** Convertible Short Spin Car Crushing Garbled graphics on layer A. Layer B rapidly scrolling grass from treetop levels
36: ***UNUSED*** Convertible Short Spin Car Crushing Same as 35. Car for both is helicopter without blades or rising/falling
37: 3 WINS BONUS! Crusher Treehouse Constantly scrolling up and car off-course disappearing - probably not designed for laps
38: 3 WINS BONUS! Crusher Beach Lets you drive a short distance, then the truck disappears as if off-course, then does same as 37
39: 3 WINS BONUS! Crusher Treehouse Same behaviour as 37
3A: 3 WINS BONUS! Crusher Beach Same behaviour as 38, only a different starting position
3B: 3 WINS BONUS! Crusher Beach Same as 3A

3C to 40: Music fades out like a normal level start, then just stays on a black screen with no player control. In level select themselves, crashes the ROM.
41 onwards: Untested, I assume the same as previous
Here's a shot of the screen the unused tracks use, by the way - it's the same default image the 3 Win Bonus tracks do. It is worth noting that this particular combination of screen and text is never seen in normal play.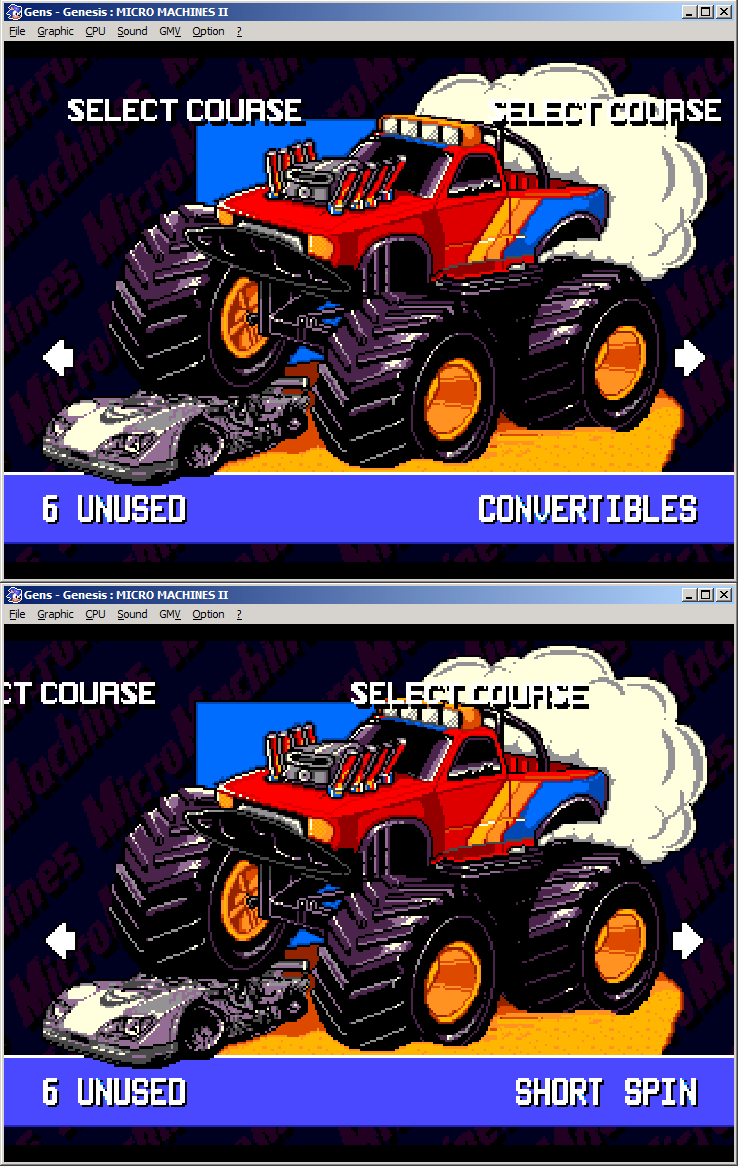 Oh, right, the utility. I made a hacking tool that will let you put whatever levels you want in the Time Trial mode, including ones that would never normally be there - though I have limited it to tracks that work and don't crash the game. =P
Clean ROM
Click! (Be sure to extract both files)
(be sure to check the About... box in the top right. ;P)