QUOTE (Rave @ Jan 13 2009, 11:58 PM) [post="267382"]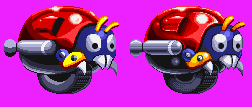 [/quote]
Not that I wouldn't want a sonic game in a kind of oekaki meets yoshi's island kind of mix.
I love what you've done, though I think the back of the exhaust needed re-doing.
I don't think it's supposed to be like a ball, it's meant to be more like the end of a trumpet with smoke coming out.
Also I think this boss would be an ideal first boss, he doesn't look like he would be a tough foe.