ProSonic Engine
News Update: 08/17/2010
PROSONIC PUBLIC SOURCE CODE RELEASE
AUGUST 17, 2010
Here it is, the entire source code to the ProSonic engine. This by no means is
an indication that I have stopped work on this engine forever. However, I also
have other interests that need my attention, so I decided to go public with my
source code to this project.
You will need the Allegro, Zlib, and HawkNL libraries to compile this code.
The DOS version is the exception, where all HawkNL references are ignored.
My goal with this project was always to make the perfect game engine for Sonic
games that everyone would want to use to make their very own Sonic game. I am
hoping with the release of this code, someone will come along and make this
the engine I always envisioned it becoming. I have laid what I feel is a good
foundation for beginning something big in terms of a quality Sonic fan game.
There are things that could be improved. The object manager could be tweaked
to be more flexible with moving objects. The PROCODE scripting support could
be improved to allow more complex routines and arithmetic. The 68000 code
support is only good enough to allow a certain number of objects to run in
ProSonic, and no VRAM emulation is implemented.
I am granting permission to everyone to use this code in any way they see fit.
It would be great to get credit for anything that is used, but I won't try to
sue you if you don't, because at the end of the day it's only a video game!
If you plan to use my source code for anything at all, even if it's just a
portion of it, I'd love to hear about it. Send me an e-mail about it. My
address is ymtx81z ata yahoo dotod com.
Enjoy!
—Saxman
DOWNLOAD LINK:
http://www.4shared.com/file/6VD_n3fU/ProSo...ce_Code_08.html
CONAN KUDO'S REPOSITORY:
http://code.google.com/p/prosonic/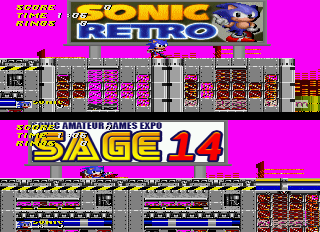 This post has been edited by saxman: 28 August 2010 - 10:53 AM