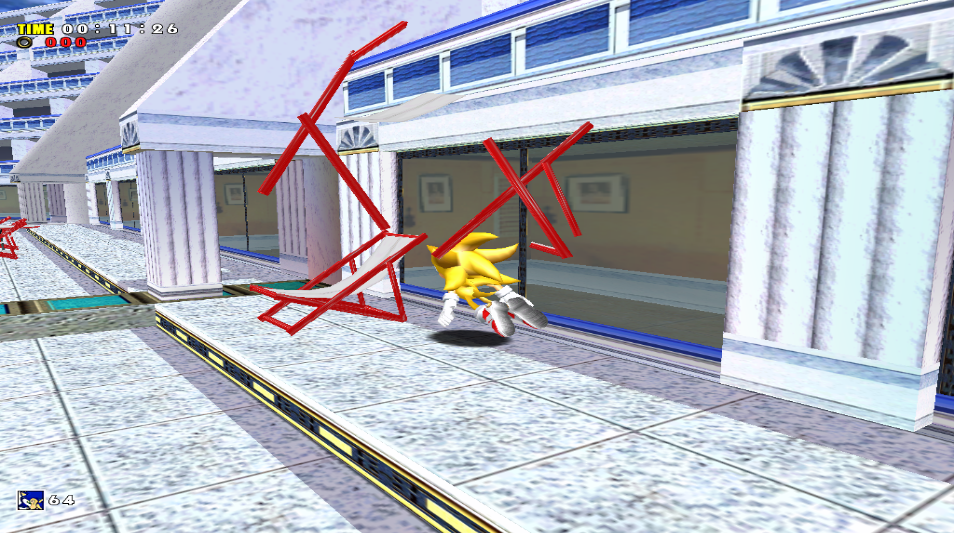 SCHG:Sonic Adventure
: An excellent source of hacking information. Feel free to contribute!
Playlist with a bunch of videos
I have done what you've always wanted to, but never could until now. In addition to fully-functional Super Sonic in any level, I've also figured out how to teleport, snowboard in any level, freeze the camera, use a different model, fill the casino vault instantly, moonjump, reverse gravity, have a magnetic shield, make rings do nothing, walk through objects like air, and other stuff.
Download sonic.CT (v3 Consumer Edition) here
If you have any problems or questions, ask me.
Please read the note about Super Sonic (the '?' in the lower right corner), or your game will simply crash.
------------------------------------------
Trainer: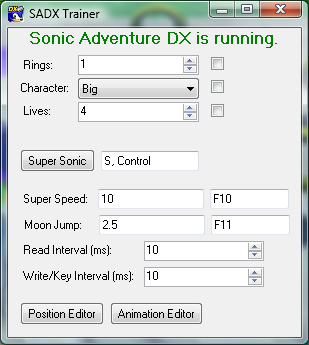 Features:
Edit Rings up to 32766
Change character (reload level)
Edit lives
Super Sonic with hotkey
Moonjump/Super Speed with customizable hotkeys and values
Position Editor with Save/Load function
'Automatically teleport to first position in list' checkbox. This should fix incorrect starting positions for some characters.
Ctrl+T also teleports to first position in list.
Animation Editor (very incomplete)
Removed.
Pressing F8 will take a screenshot (in SADX dir).
Disabled.
Customizable read/write intervals.
Not Pictured:
Switch Characters
Metal Sonic checkbox
Debug checkboxes
Change Character for adventure fields and start points
Requires .NET Framework 3.5 or greater.
SETedit
:
Edits object layouts. Works best when used with SADX running. Discontinued. Use SADXLVL instead.
SADXTweaker
:
Change various things in sonic.exe. Discontinued. Use SADXPCTools instead.
SADXLVL
:
Edit levels. Discontinued. Use SADXPCTools instead.
SA1LVL
:
Edit levels in the Dreamcast version. Discontinued.
SADXMDL
:
Edit models and view animations. Discontinued. Use SADXPCTools instead.
SADXsndSharp
:
Edit .DAT sound archives.
SA Tools
:
A new way to hack Sonic Adventure.
Sonic Adventure Save File Info page
:
Displays save file info for SA1 and SADX for GameCube and PC.
SASave
:
Edits save files for all versions of Sonic Adventure.
This post has been edited by MainMemory: 30 June 2017 - 01:13 PM