This is a hack of Sonic 1 that adds Sonic's Super and Hyper transformations, complete with all of their effects, abilities, and even music. The Spin Dash is not included.
Download
here
.
Screenshots: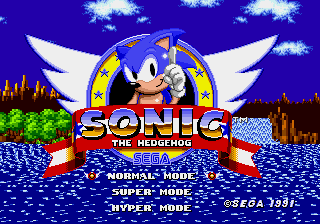 Credits:
Changelog (DD/MM/YYYY):
v1.0 - 17/04/2016
v1.0.1 - 17/04/2016
Fixed bug from S3K where doing a Hyper Dash makes the after-image corrupt for a few frames
v1.0.2 - 18/04/2016
Fixed bug where Speed Shoes will slow down music while Super/Hyper if 'None' is selected for the Super music
v1.0.3 - 22/04/2016
Fixed Hyper Dash after-image corruption (for realz this time)

The Hyper Dash now fills the entire palette with white, since the way the backdrop colour is used differs between S1/S2 and S3K.

Fixed the Hyper Dash not destroying Yadrin badniks

Stopped the title screen from playing a demo while the player is selection their options
v1.0.4 - 26/04/2016
Fixed Super Music options overwriting console region
v1.0.5 - 30/04/2016
Super/Hyper Sonic can smash GHZ/SLZ walls without rolling, like in S3K
v1.0.6 - 01/05/2016
Super/Hyper Sonic can now jump through smashable walls, like in S3K

Made wall-smashing smoother (v1.0.5 should have done this, but I screwed up)
v1.0.7 - 01/05/2016
Fixed SYZ randomly changing Hyper Sonic to Super Sonic

Fixed Hyper Dash sparks corrupting when the animal capsule is broken
v1.0.8 - 14/05/2016
Stopped Hyper Sonic from Hyper Dashing immediately after transforming (while in his walking animation)

Switched to custom Sonic 2 Clone Driver v2 (Mega PCM with DAC volume table from ValleyBell's DAC driver), adding PAL mode and other goodies
v1.0.9 - 15/05/2016
Reverted smooth wall smashing for normal Sonic, it seems it was intentional (it doesn't move Sonic ahead by 4 pixels, it *pushes him back*)
v1.0.10 - 15/05/2016
Fixed crash that occurred with Final Zone and Boss music
v1.0.11 - 14/08/2016
Removed Sonic 1's old debugger

Padded ROM to 1MB

Sped up boot-time checksum calculation

Updated Sonic 2 Clone Driver v2 to v2.7

No longer need to press 'A' to open Level Select
v1.0.12 - 31/08/2016
Fixed Sound Test

Fixed Title Screen menu sprite palette line

Added Sonic 3D Blast music option
v1.1 - 31/12/2016
Fixed 'no music' mode

Fixed some vanilla bugs

Replaced Flamewing's DMA Queue with a UFTC queue. Yes you read that

Added Knuckles' Chaotix music option

Added S3K/S3D DAC samples to their respective music

Added bonus 32KHz Sega chant
Copyright 2016 Clownacy. This item is not authorized for posting on Steam, except under the Steam account named
Holy moley!
This post has been edited by Clownacy: 31 December 2016 - 11:27 AM