So yea, as the title says, yesterday evening an online friend of mine sent me what he believed to be a Beta of Gunstar Heroes. I was initially skeptical, but upon playing it, I'm actually believing it's authentic:
Enjoy, you all!
Now if this is old, I apologize for all the excitement, but this was unknown to Me, Tweaker, and Super, so I'm guessing this isn't very widespread.
GENERAL INFORMATION (please read before posting questions/findings).
Now, don't take my word for this (I'm not confident in making these types of assumptions), but I'm going to say it's about 70% complete. The game is quite playable, up until the end of Stage 5 (Where Yellow is kidnapped and Smash Daisaku is boss), whereupon defeating Smash, you'll be stuck. You can get past this inconvenience using methods detailed below.
As for differences, there's literally a myriad of them that await you. Some are small graphical oddities, others are added gameplay elements, and still more are probably remains of debug features.
Gameplay works much the the same as the final, Red is still free shot style (though he can fire downwards in Green's stage), and Blue is still fixed shot. However, I will detail the various aforementioned debugging features present in this build.
Stage Select
As you'd guess, pressing Start or C on the highlighted icon will take you to the appropriate level. However, hitting A will take you to different levels, depending on what's highlighted. Below is what each icon corresponds to, with the destination listed in italics:
Pink =
Stage 5 (Rescue Yellow)
Green =
Stage 6 (Spaceship stage)
Orange =
Stage 7 (Final level where all the Empire members attack you)
Black =
Stage 7 (again)
This was likely done by developers to have all the levels immediately accessible.
In-game debugging
Granted, this isn't as much as I'd hoped for, but it's kinda useful in the incomplete levels (Stage 7 especially). Basically, when you're paused in mid-game, you press the following buttons to trigger different effects:
A is used for changing which guns you currently have, you press it in conjunction with either Left for your left weapon, or Right for your right weapon. It cycles through Blank, Force, Lightning, Chaser, Fire, then back to Blank, in that order. Bear in mind that it may take a couple of tries to make this work.
B unlocks the screen most boss fights. This is especially useful for Stages 5 and 7. Use it during your fight with Smash in Stage 5, and run as far right as you can. When you win, Smash will shout a terrible Engrish line, and the ship will actually blast off, allowing you to proceed to the next level. In Satge 7, use during the battle with the Duck Battalion to move through the level (though it's completely empty minus the first battle). Remember to do it each time you come to a would-be arena.
C makes oddly colored lines fly about. If anyone finds a real purpose for this, please post it here. Hit C again to get rid of them.
Hit A and B at the same time, the unpause, and you'll instantly get 9999 health. You can do this as much as you like. =D
Hitting A, B, and C all at once takes you back to the Sega and Treasure logos.
If anyone else finds any more of these, I'd love to hear about them.
SCREENSHOTS
To prevent the otherwise inevitable shouts of "LOL FAKE!!!!11!!!11":
Free points! =D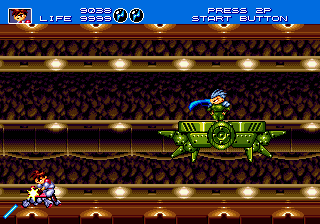 GREEN WHAT THE FUCK DID YOU DO TO YOUR FACE?!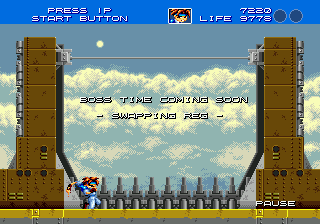 Most of the text is either Engrish or not even translated at all.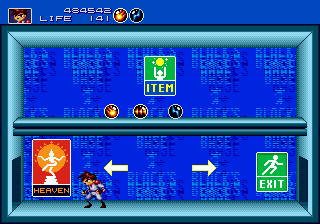 Heaven?!?! O_O Sadly though, the doors broken. ;_;
So yea, have at it. If you love this game to death, you'll have a ball with this prototype! There's hundreds of cool differences waiting inside, from music changes, to scrapped gameplay elements. That ROM link again in case you missed it:
LUNATIC GUNSTAR
Remember, if you find anything noteworthy not mentioned in this thread, I wanna hear about it. Don't be shy!
If enough people care, I eventually wanna try to create a website detailing every single difference, kinda like this site here.