I've decided to try and make a Sonic RPG in my spare time. No, I've got gone crazy! I figure if BioWare can do it, what's to stop one of us? The game is in it's very early stages at the moment, but I thought I would gauge people's reactions to the idea, even at this early point., as such, I present...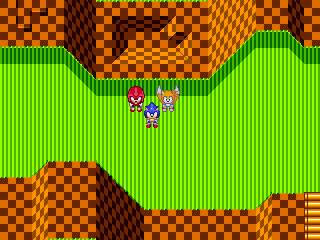 Sonic, Knuckles and Tails in a test screen from the Green Hill Zone
Gameplay Elements
The game would play like a traditional SNES RPG. Think Final Fantasy VI and you're pretty much there. Some of Sonic's famous gimmicks will be included though to give the game the right flavour. This does mean turn based battles, but I honestly think I can make this work. Enemies such as the freezing rays in Ice Cap will cause Frozen status effects, bosses will have defined patterns with set strategies etc.
The weapons will also reflect each individual character, for example, Sonic's weapon upgrades concern his shoes, Knuckles' concerns his gloves, etc.
Plot Synopsis
Without giving too much away, this game occurs after Sonic 3 & Knuckles and Knuckles Chaotix and the gang are familiar with Nack/ Fang. The plot involves The Chaotix, Silver Sonic, Metal Sonic and Mecha Sonic (known as Metal Sonic Proto, Metal Sonic Mk I and Metal Sonic Mk II in the game), Emperor Metallix from the Fleetway comics, and Project Chaotix (who some people seem to call Metal Sonic Kai - I'll stick with Project Chaotix), as well as, of course, Robotnik.
The plot will also include characters from Sonic the Fighters, SegaSonic Arcade and potentially other spin off titles, however, this game should be considered to exist within it's own canon as opposed to official canon and may borrow elements from Fleetway's Sonic the Comic, and Archie's Sonic the Hedgehog comics. (I promise there will be no Sally, Bunnie, Antoine or Rotor though)
That's as much as I'm willing to say at the moment.
Playable Characters
The following playable characters are confirmed. Each will fill a specific role in the party, essentially you'll be Team Sonic and Team Chaotix throughout the majority of the game.
- Sonic the Hedgehog
- Miles "Tails" Prower
- Knuckles the Echidna
- Espio the Chameleon
- Mighty the Armadillo
- Charmy Bee
- Vector the Crocodile
I am considering making other Sega characters cameo as Summons, including Ristar, The Bonanza Bros and Sketch Turner but I'll see if it interferes too much with the game.
Locations
At this point in time I can confirm the following locations will be present in the game. Expect more to be announced!
- Green Hill Zone
- Marble Garden Zone
- Chemical Plant Zone
- Aquatic Ruin Zone
- Mystic Cave Zone
- Angel Island Zone
- Ice Cap Zone
- Hidden Palace Zone
- Sky Sanctuary Zone
- Death Egg Zone
- Special Zone
- Newtrogic High Zone
Graphics
I'd love to pretend these aren't the most important thing to some people, but I would be fooling myself. Naturally, for battle backgrounds and in battle sprites there are a plethora of rips available, some of which I am slightly editing or reworking.
Metal Sonic's sprites have all been edited as seen above
For the overworld, where most of the game will take place, I am using Zach "Zin" Furr's overworld sprites (although so far I can only find the front facing for most characters, I've only tracked down side and walking poses for Sonic, Knuckles and Tails at the time of writing this), which I am revamping by recolouring with game accurate colours and reshading.

An example of what I am doing with Zach's sprites, his originals are the top row, my edits are the bottom
For the maps, I am making the graphics from scratch, heavily referencing rips from the actual zones.

A sample of the Green Hill tiles I have made so far, you can see how they look when put together in the screenshot at the start of this post
So, why should you care?
Well, I'm trying to make a fun, interesting and engaging game for fans of the blue blur in a different genre, one that Sonic is supposedly incompatible with. If that doesn't tickle the fancies of at least some of you, something is seriously wrong!
This post has been edited by Afr0Blu3: 05 July 2011 - 06:09 PM