So lately I've been lurking around the New Super Mario Bros. Hacking Domain, which is a forum centered around hacking NSMB DS, and I came across a hack that I played when it was in beta, but only just now that it's fully complete, I'm actually getting into it.
Copypasted from the NSMBHD forum topic:
Quote
IT'S FINALLY RELEASED
Hey everyone,
This is my hack I've worked on since 3.2013. Please tell me if you find bugs so I can fix them.
Content
- 80 completely new levels!
- Tons of new graphics
- Each tileset has been replaced with a new one!
- Many new backgrounds
- Many new soundtracks
- Retextured Powerups
- A hidden Mini Arceus in every level
- Pretty level designs
- Challenging Star coins
- And much more!
The Worlds
Quote
World 1 - Autumn Grove
Quote
1-1: Overture in the autumn forest
1-2: Fall down cave
1-3: Mush room for chomps
1-Tower: Pendulum Tower
1-4: Hide and Seek
1-5: Icicle Cave
1-A: Follow the flow
1-Castle: Bowsers Press Fortress
World 2 - Shroomy Desert
Quote
2-1: Bounce, Bounce, Bounce
2-2: Desert Quarry
2-3: Bombonia
2-4: Up and down
2-Tower: Spinning Sand Tower
2-5: Attack of the spike balls
2-6: Pokeys on Platforms
2-Castle: Mummy Pokeys Pyramid
2-A: In the eye of the storm

World 3 - Toxic Trees
Quote
3-1: See-Saw Fun
3-2: Up and away
3-Tower: Spiky Spiral Tower
3-3: Raft on River
3-Ghost House: Under pressure
3-Castle: Castle of Crows
3-A: Pipe problems
3-B: Poisonous Piranhas
3-C: The Coastguard

World 4 - Candy Country
Quote
4-1: Candy Cane Ride
4-2: Piranhas Ice Cave
4-3: Go on swimming!
4-Tower: Complex Chain Tower
4-4: Frozen Obstacle course
4-Ghost House: Broozers breakup business
4-5: Swinging cave
4-6: Freezing breath
4-A: Up and down with Lakitu
4-Castle: Frozen Missiles

World 5 - World of Blocks
Quote
5-1: Nothing can block you
5-2: Hey, Bro!
5-Tower: Bang-up elevator
5-3: Spiteful Snake Blocks
5-Ghost House: Forest Maze
5-4: Moving bridges
5-A: Real or fake?
5-B: Colorful Countryside
5-C: Pipe Sky
5-Castle: Spike Ball Challenge

World 6 - Melting Mountains
Quote
6-1: Bullet Bill Mountains
6-2: Blooper bombardment
6-Tower: Thwomp Tower
6-3: Rope to rope
6-4: Spiky sea
6-Tower 2: Twisting Tower
6-5: Spotlight on!
6-6: Dry Mountains
6-A: Snowball fight
6-B: Shipping about the poison
6-Castle: Montys Melting Fortress

World 7 - Cotton Clouds
Quote
7-1: Skyline
7-Ghost-House: 1,2 or 3?
7-2: Continue climbing, please!
7-3: Jump, Mario, jump!
7-Tower: Perilous Platform Tower
7-4: Lakitus Cotton Clouds
7-5: Mini Mountains
7-6: Cheep Cheeps in the sky
7-7: Pokey Parade
7-A: Bowsers great offense
7-Castle: Lakithunders Lava shipping

World 8 - Hazardous Lava Land
Quote
8-1: Keep rolling
8-2: Is this a bug?
8-Tower: Spinning Shapes Tower
8-3: Poisonous Platforms
8-4: Lava Coaster
8-Castle: Dance with the snake blocks
8-5: Boom Boom Boom!
8-6: Icy Volcanoes
8-7: Barrely dangerous
8-8: The Ultimate Fire Challenge
8-Tower 2: Platform Panic
8-FC: Castle of Keys

Screenshots
World 1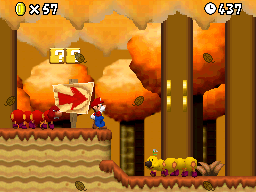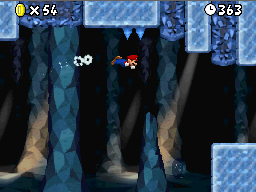 World 2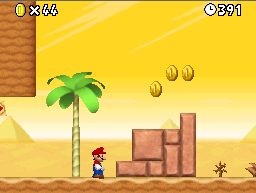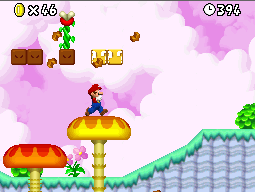 World 3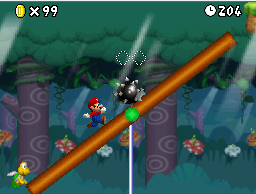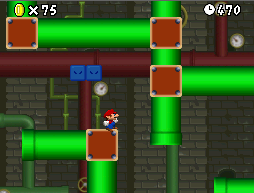 World 4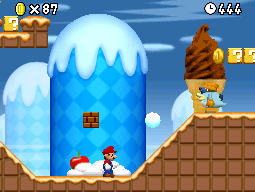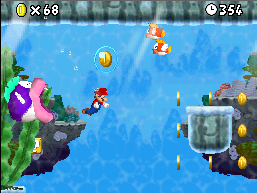 World 5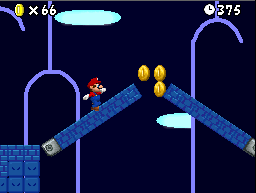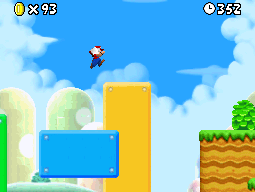 World 6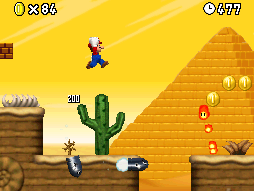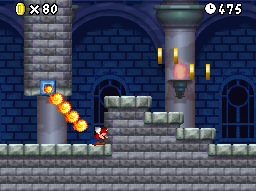 World 7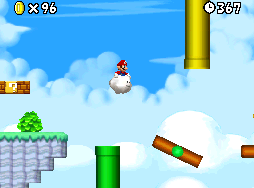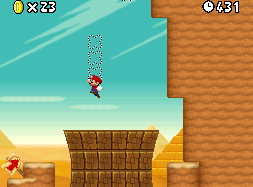 World 8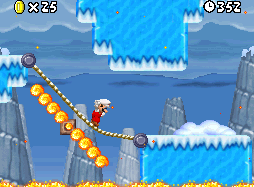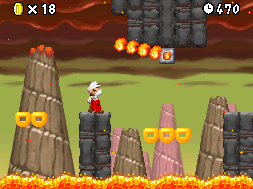 Trailer
http://youtu.be/cZ66TaN9oAE
Credits
Thierry for (a bit of) beta testing and for one bg
thereturnofdoritosxD for real beta testing
Freeze for the ice cave bg
SaturnYoshi for the leaf pile
TRS for some textures
Sharks for some textures
MarioFanatic64 and CopperMario for the awesome mountain background
DOWNLOAD
Super Mario Bros. - The New Worlds