THIS THREAD CONTAINS UNMARKED SPOILERS FOR SONIC MANIA PLUS AND THE UPCOMING SONIC MANIA PATCH. IF YOU DON'T WANT SONIC MANIA PLUS OR PATCH 1.04 SPOILERS, LEAVE THIS TOPIC NOW!
With the release of Famitsu's images, the PS4 update leak, and the full Famitsu article and the first trailer coming tomorrow, the current main Sonic Mania Plus topic is a wasteland of nothing but full posts in spoiler tags. It seems to me like it's the right time for a
SPOILER THREAD.
I'm going to proceed to add a bunch of blank space here. Seriously, this is your last warning - don't scroll down if you don't want Sonic Mania Plus / patch 1.04 spoilers.
⠀
⠀
⠀
⠀
⠀
⠀
⠀
⠀
⠀
⠀
⠀
⠀
⠀
⠀
⠀
⠀
⠀
⠀
⠀
⠀
⠀
⠀
⠀
⠀
⠀
⠀
⠀
⠀
⠀
⠀
⠀
⠀
⠀
⠀
⠀
⠀
⠀
⠀
⠀
⠀
⠀
⠀
⠀
⠀
OK. Let's talk Sonic Mania Plus!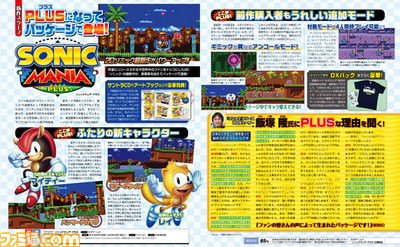 Famitsu released this extremely low-res image of the Sonic Mania Plus feature they are running in the issue releasing April 26th in Japan (tomorrow).
It seems to confirm Angel Island to be playable in some form (second picture in the lower left shows a full HUD in Angel Island).
Other levels are shown with altered palettes; GHZ is set at sunset, and what looks to be a nighttime Mirage Saloon in the 4-player competition mode (top right) seems to suggest at least some Encore Mode levels will be available for multiplayer.
It also looks like mix-and-match partners are MAYBE a thing? Some pictures look like they have 2 life icons, and Sonic and Ray are together in this other image Famitsu tweeted, that seems to possibly depict the Encore Mode intro?
For anyone who missed it, a seemingly incomplete version of the 1.04 patch that will enable access to the DLC leaked on PSN in Europe.
In addition to the needed preparations to allow the purchase of the DLC, it also, for free, contains all the missing level transitions (though some are seemingly only partially finished),
as well as a
CRAZY new boss fight
with Metal Sonic paying homage to Chaotix.
Also in the patch:
-
a fancy new menu.
- new special game option: you can disable the level time limit.
- special game options can now be enabled even on save files.
-
continues have been added back into save files.
-
Time Attack has a new in-game results screen.
-
Competition Mode can now be played at a normal aspect ratio with black bars on the sides.
-
Super Sonic has a complete sprite set now, as well as a new idle animation.
- more?
-
Hyperkinetic Studios
, a co-developer of the update and DLC, has been
added to the splash screen.
We should get more details on at least some of this stuff (including a release date!) in the
trailer releasing tomorrow
...!
⠀
⠀
EDIT: Oh boy! I just found this in someone's 1.04 patch playthrough. Maybe someone said this before me, but I didn't know yet.
For anyone who doesn't know, though! In case you were worried about Mania Plus being "farmed out"...
This is in a separate section below the main Sonic Mania Development Team section of the credits.
It's missing some credits from the previous section as well, so it's clearly not just double-counting people who already contributed to Mania.
For example, the sole level designer for Sonic Mania Plus appears to be Brad Flick (makes sense that Encore Mode would need less level designers).
This post has been edited by Hinchy: 21 May 2018 - 05:30 PM