Tutorial One: Pallet hacking.
This is a tutorial on Pallet editing with hex. I have written this tutorial because some newbies to the community might want to have a greater understanding of hex, or to build up their skill in hex editing.
Before people ask "Wouldn't this be redundant? There are pallet editing programs..." I am aware of that. I'm sure this could be handy to some people, and after all I do believe that a people like me shouldn't be dependant on programs instead of doing the manual work. :P
In this tutorial, I will be giving a complete explination of how to change pallets, and I will do this with two examples with the offsets to these examples.

Example ONE: Sonic's pallet. (Or Tela Titulo in ESE II.)
Sonic's pallet colours are located at various offsets in the ROM. The image below shows a picture containing the pallet and the hex codes for the specific colours:

The numbers on the pallet colours are for me to use when writing these offsets. And these offsets are:
1) 0133EC
2) 0133EE
3) 0133F0
4) 0133F2
5) 0133F4
6) 0133F6
7) 0133F8
8) 0133FA
9) 0133FC
10) 0133FE
11) 013400
12) 013402
13) 013404
14) 013406
15) 013408
16) 01340A
So basicaly, if you go to 0133EEC in a hex editor (And if anyone isn't sure of what to use, I reccomend Hex Workshop by Breakpoint Software.) And you will see that the numbers and letter at 0133EEC is 0E20. To change that, just write over it with the colour you want to use. (I will get on to that later.)
Example TWO: Spectial Stage One.
Again, the colour information is located at various places in the ROM, and I have made another picture for you all to show the offsets and hex for the colours.

The offsets in this pallet are:
1) 0031C2
2) 0031C4
3) 0031C6
4) 0031C8
5) 0031CA
6) 0031CC
7) 0031CE
8) 0031CF
9) 0031D0
10) 0031D2
11) 0031D4
12) 0031D6
13) 0031D8
14) 0031DA
15) 0031DC
16) 0031DE
Notice that they all go up in 2's. I don't know why they do, but I think it's worth noting.
Now that you have a decent example of two pallets, I'll write out a few more without detail so that anyone who reads this can do some of the work theirselves.
Metropolis Zone: Pallet starts at 002AE2. Since it has four lines of 16 colours on any pallet editor, some may get confused on which colour is at 002AE, so it's worth noting that the offsets for each colour go across, not down. Here's a rather poorly made picture to show what I mean.

Now, this is the part where I make less explinations but more pictures. The hex values of colours in the genesis are set out like this, 0
B
G
R
, which means that there is a 0 before ever colour in a pallet,
ammount of Blue
,
ammount of Green
, and then the
ammount of Red
.
Since you (being anyone who does this) are working in Hex, it's impossible to see what colour 0888 is (although I have heard of some hex editors that do that). So here's a picture of every colour in the Genny.
Ok, so maybe every colour in the Genny is a bit mutch for me to do. 1536 colours! So here's a picture of the main Red Green Blue values (Another note: All colour values go up in two. You'll see what I mean in the picture) :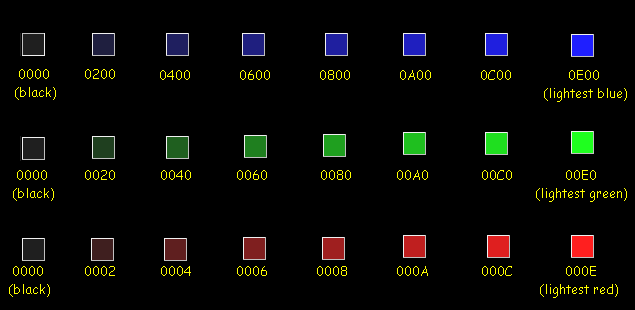 Further notes: I have tried finding a website that lists all 1536 combinations, but I have failed. If anyone could post a link, it would be very usefull!
I hope this is of use to anyone. If I have made a mistake or left anything out that I haven't done intentionaly, please tell me!
This post has been edited by Soil: 15 September 2004 - 12:37 PM