Dead or Alive 4 was for hardcore fans in some ways a step forward and in others a step back. So a few of us want to change how the game plays. There's a single file that's contains a majority of this data. In fact, it contains more than I originally thought. There's an official patch for the game that you receive when you connect to Xbox Live, this patch is just an updated version of the file in question: anm.afs.
Some of you may already be familiar with the AFS format from the Dreamcast days, it's basically a container format like ZIP or something similar with no compression (I think). So it has each character's movesets.
With the updated anm.afs however there were variables changed that were thought to be in the executable (which couldn't be modified without breaking its signature) but were changed in this file. Also a few additional moves were added with the update. Who knew? Neat shit.
Basically the problem now is cracking the format of the files inside this AFS.
You can see here how some of the data matches up here:
So far we've managed to get a very basic modification done. A lot of it is guessing and not 100%.
And the current app looks like this: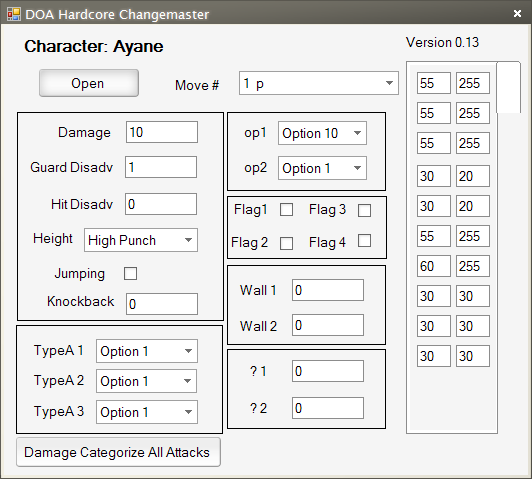 So, yeah I'm stuck and haven't got any ideas.
Here's two files if any one of you wants to have a look see and help me out.
http://home.comcast....~doa4/alpha.bin
http://home.comcast....~doa4/ayane.bin
This post has been edited by grap3fruitman: 20 February 2008 - 12:07 AM