Hello all. I have decided to attempt my very own Sonic 1 hack, after deciding my previous "hack", NiGHTS Speed, just wasn't cutting it. The nature of this hack (and title) will become apparent in the future (once I learn some more of this technical juju), but for now, I'd like to present my progress so far.
Basically, at the end of the day, I want this hack to have :
-100% Custom Art
-Ported Music (I'm probably gonna need someone to do this for me : P)
-New Layouts
-And a little bit of ASM
At this moment of time, all I have edited is Sonic's standing, looking up, ducking and waiting sprites, and have created a new layout for GHZ1.
Here's a screenshot for kicks.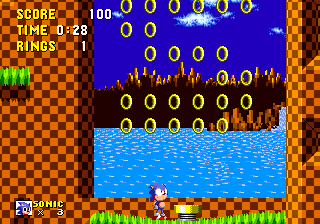 And here's the current build's download.
I'd love some feedback : )
This post has been edited by Jof: 08 August 2008 - 08:49 PM