So you guys have probably heard of my game, Sonic Classic. It's nearing completion, but theres something missing. It's you guys! Before I put finishing touches, and other nick nacks in the game, I want your opinions. As of now, I am going to go through the current level line up.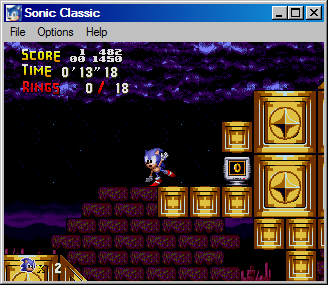 Another Aqua Arena (Planet :P)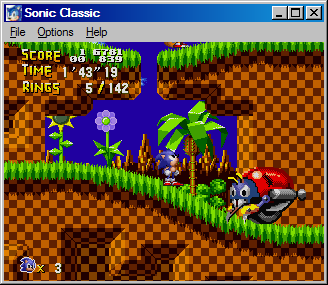 OH SHT THE GIANT BADNIK CHALLENGE RETURNZ for both classic and sonic 1 mode :3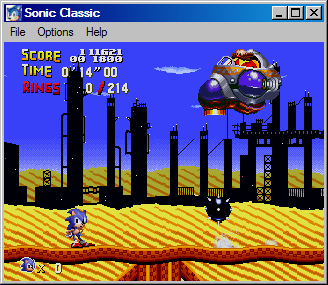 O SHT AGAN its a boss
Moar gigalopolis
Some of luster lake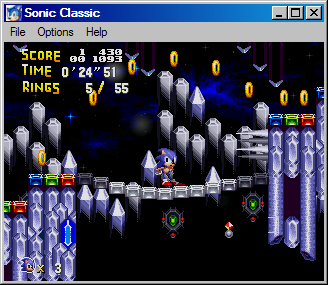 Special stage...may scrap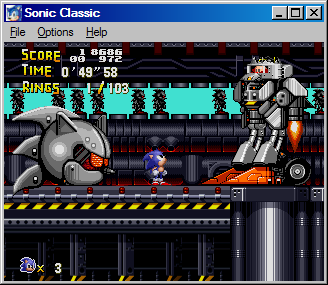 IS IT TEH FINAL BOSS? OR ALMOST FINAL? SHT...sprite by flare, who is an awesome spritest :P
Semi final level select...woot?
And of course, the video's you've all probably seen...
Hazel Hills
http://www.youtube.com/watch?v=KX33Pr0bnFY
Dusty Dunes...with a partially new Knuckles Sprite
http://www.youtube.com/watch?v=yDVuN3NHoBc
Crystal Caverns...layer issues I know
http://www.youtube.com/watch?v=KRP-cRJSyFg
Gigalopolis...etc...
http://www.youtube.com/watch?v=pAlBnpe2mkg
Robot Rave...atleast part
http://www.youtube.com/watch?v=cGmSlOuQZwQ
To show what Sonic 1 mode will be like
http://www.youtube.com/watch?v=LH6rRFMrfT0
To show how time trials work...
Now here's where the problem comes. I've got numerous emails and messages asking this question. "Where is Rocky Route zone?" Quite frankly, it was a horrible zone.
And here is the picture of the zone in question. If it is popular enough, I can and will place it back in the game. It was sort of a Hill Top esq zone, being about the same as Hazel Hills with minor changes. Now here comes the other question. "Where is Mystic Mines zone?" As this is not as popular as Rocky Route (and quite frankly, I don't know why) it is being asked.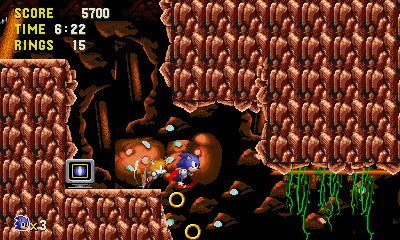 The second zone in question. As of now, it is canned. I may bring it back. but this would make the release date pushed back further.
And another zone I've been asked abotu is bridge zone.
I've been asked many times if it is going to be in Classic. The anser as of now is no, it will not be in Classic. If the demand is high, then sure Ill push the release date back further and sweat a bit more.
With this in mind, Aqua Arena is also on the border of being removed, because of time issues. If everyone is wanting these zones in, then so be it. I can also go the "S&K" route and remove them for now, and then release a Sonic Classic and Fang game. Featuring the removed zones and extras with lock on. It's all up to you guys. With a lock on feature
If it is pushed back, and an S&K type deal is made, things like the following would be very possible in its sequal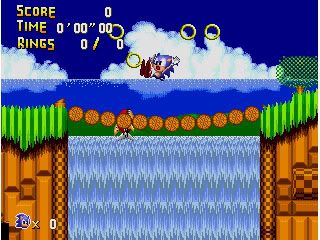 Such as this
While on subject, this game features a bunch of "Challenges"
such as beat the game with no rings, find all the giant enemys, beat the game backwards etc. Completing these will unlock secrets :3
My question is, are there any features you'd love to see? Any features I should veto? Please, I really do want your input.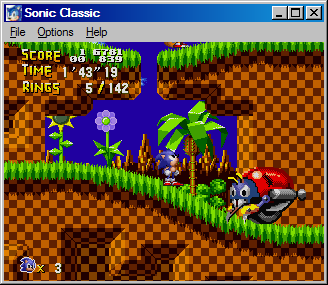 Yay for giant enemys in every level mode =4
Please forgive my typing, I am hammered right now. I thought it would be a great time to do this now.
ZOMG 2010 DEMO
SONIC CLASSIC DEMO
not as crippled. Since its...like...ya know...not done and such.
This post has been edited by Hez: 16 January 2011 - 06:25 PM