I did a search and didn't see a topic about this (save for somebody asking for a PAC unpacker in 2006 that was locked), so I dunno if this has been posted about elsewhere or not - sort of fell out of the whole hacking/lost stuff scene outside of the big stuff posted on Sonic Cult's main page.
Anyway! I downloaded the Sonic Heroes PC demo just to fool around with (felt too lazy to go down stairs and hook up the GC to my TV). Since I just lost my old HDD not long ago I've been down on sound effects to use for Fangames, so I set about trying to rip audio from Sonic Heroes.
The PAC files were my first target. I hunted around for a decompressor/unpacker to no avail, so I tried an old trick - I simply opened the PAC file in Goldwave. When you try an open a file format Goldwave doesn't understand, it gives you several generalized options in which to open the file with in hopes it will find something useful.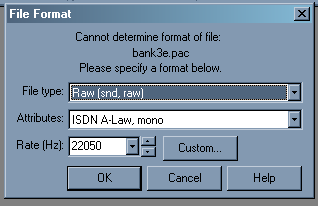 Since most games still use WAV, if you find the right audio format and sound rate, you'll often be presented with several minutes of game sound effects, each one nestled in between static - header data, no doubt. If you get the format wrong, you'll just hear static, so it helps to go through each option one at a time until you get something usable. Usually you'll know if you're getting close because you'll be able to hear a distorted version of the normal WAV files on certain options.
For Sonic Heroes' PAC files, we're looking for these options:
Quote
File Type: Raw (snd, raw)
Attributes: PCM Signed 16 bit, little endian, mono
Rate (hz): 22050
And hey, would you look at that!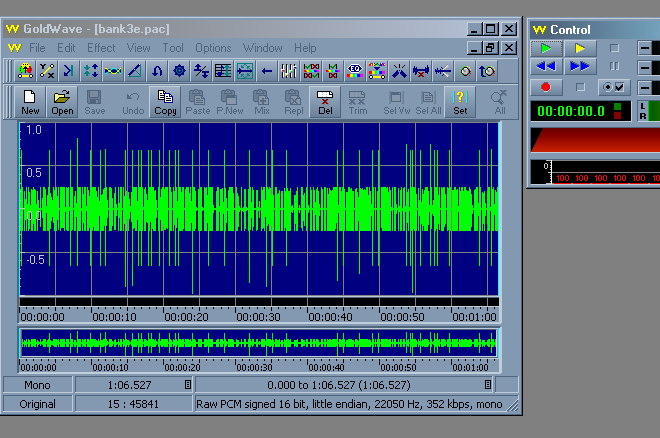 (click to download bank3e.wav)
Bank0 = Menus, etc.
Bank1 = Level objects (rings, springs, etc.)
Bank2 = Character moves (Blue Tornado, Homing attack, etc.)
Bank3 = Character voices
Bank4 = Enemy sounds
Bank5_01 = Audio exclusive to Seaside Hill (waves crashing, seagulls, etc.)
Beyond that I dunno - I don't want to waste space on my HDD re-installing the PC version. :P In them, we get a couple of alternate voice clips I've never heard before, but most interesting is in Bank4 - we run in to a handful of sounds presumably for enemies, including some weird synthetic voices.
Distorted Laughter (?)
Synthetic voice saying "Nice Job!"
Creepy synthetic voice saying "Ouch-ie! Nngh!"
Synthetic voice saying "Great!" in mild engrish
("Gu-reat!")
I don't know what this one is saying.
This sounds very organic for a PAC containing mostly robot sounds.
A distorted "Grrrr!"
Your guess is as good as mine.
There's one more oddity in there, too:
What sounds like a stabbing noise
. It actually sounds like the knife stab sound from Counter-Strike.
So yeah. Hopefully this isn't old and I'm not totally making an ass out of myself. :P