Sonic Boom TV Show Megathread

Getcha CG cartoon chat here!
Posted 29 January 2017 - 06:58 PM
---
Posted 29 January 2017 - 08:52 PM
Not really, I think Bill Freiberger himself confirmed that Knuckles doesn't really have a place to call his home. The first 2 Boom games are pretty detached from the show itself, that it's probably best to not think too hard about what details are actually legitimate. The episode itself was really good, then again episodes focused on Knuckles are usually really good but this episode got some good feels to it along with some really good jokes. Also nice to see Charlie and Belinda be the main villains for an episode.

---
Posted 12 February 2017 - 12:25 PM
The most recent episode starts off with some nice self aware fanbase jabs about a game they're playing:
"They should have never changed the color of the character's legs"
"The franchise really didn't make the transition from 2D to 3D well."
Good
Interestingly, another episode without Sticks. They don't seem to care about her as much this season. Also the defective Cubots from last season make a reappearance.
---
Posted 12 February 2017 - 01:49 PM
A bunch of episodes finally popped up OnDemand in HD, I'll be adding them to the doc soon.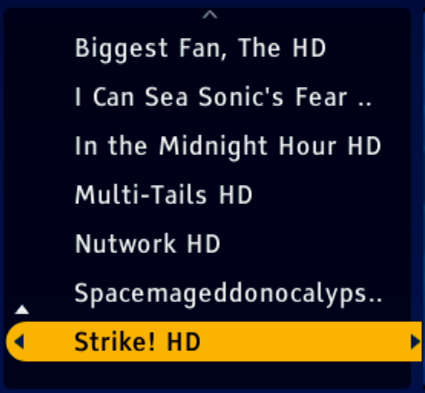 ---
Posted 12 March 2017 - 07:02 PM
"Amy Rose the Hedgehog". I tend to forget she's on...

---
Posted 12 March 2017 - 10:11 PM
Hedgehogville is the town's name now.

---
Posted 13 March 2017 - 08:25 AM
Aww, I liked when it was just "unnamed Village"

---
Posted 13 March 2017 - 11:15 AM
---
Posted 13 March 2017 - 12:29 PM
Thanks for the spoilers, my DVR didn't record the episode on Saturday like it was supposed to!
---
Posted 11 April 2017 - 12:23 PM
Hey remember this show
Anyway neat little touch they added in a recent episode titled "Mombot." At one point Sonic and Eggman are at the movies and the song playing in the background is Eggman's theme from Sonic 06 - Colors. That might be the first time any of the Sonic shows have actually used game music outside of AoSTH's Sonic 1 title screen remix.
---
Posted 11 April 2017 - 01:06 PM
Incorrect actually, Sonic X in Japan used Live and Learn during the SA2 arc. Of course 4Kids didn't bother while they were gutting the soundtrack for their far inferior constantly-on crap.

---
---
2 User(s) are reading this topic

0 members, 2 guests, 0 anonymous users